By
Matt Bernardini
Prison overcrowding in the U.S. is largely attributable to an increase in the mentally ill inmate population. Jails and prisons are increasingly being used to house these individuals, denying them of the treatment they need and locking many of them into a cycle of being incarcerated.
Nearly 45 percent of inmates have been told by a mental health professional that they have a mental health disorder, according to a 2017 Bureau of Justice Statistics report on prisoners in 2011-2012.
,
Mentally ill prisoners present a greater challenge to law enforcement, compared to regular prisoners.
About 25 states and some cities in the U.S., contract private vendors to deal with health care services, according to the Journal of the American Academy of Psychiatry and the Law. This indicates that many prisons do not have a mental health professional on site.
"Not all correctional facilities and communities have treatment programs lined up for anyone with mental health issues," KiDeuk Kim, a senior research associate with the Urban Institute said. "I've always wondered if they would have been cared for better if they stayed in the community."
Kim is also the author of a 2015 Urban Institute report that details how mentally ill prisoners are treated in the criminal justice system. The report noted that U.S. jails and prisons hold more people with mental illnesses and co-occurring substance use disorder than many inpatient psychiatric facilities.
"Correctional institutions have become the de facto state hospitals," Daniel said. "And there are more seriously and persistently mentally ill in prisons than in all state hospitals in the United States."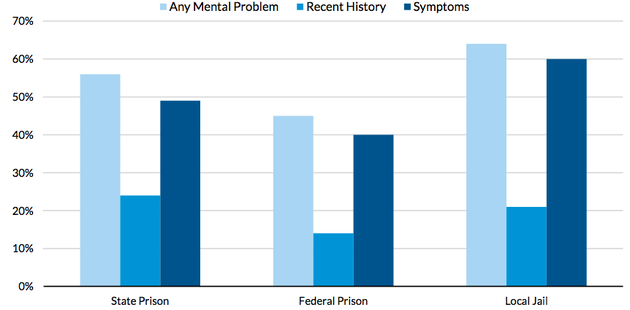 Deinstitutionalization
One reason mentally ill people end up in prison is because they don't get the preventative treatment they need. Through the process of deinstitutionalization, mentally ill patients move from hospitals into the community in result, a lot of mentally ill people end up homeless.
A 2013 report by the Journal of Legal Studies finds that deinstitutionalization is responsible for four to seven percent of incarceration growth between 1980 and 2000. While this is a small proportion of the overall prison population, the study notes that a sizable portion of the mentally ill behind bars would not have been incarcerated in years past.
"Not everyone with mental health issues who have been deinstitutionalized ended up in prison," Kim said. "But of course deinstitutionalization has some impact at a societal level."
On the streets, a lack of help can often lead to more violent crimes being committed.
According to a 2006 BJS report, prisoners with a mental illness were more likely to commit violent offenses such as homicide, sexual assault, and robbery, than those without a mental illness.
The recycling chain
Due to lack of available resources, a lot of mentally ill prisoners struggle while incarcerated.
"A lot of mentally ill do not fare well in prison," Kim said.
According to the Treatment Advocacy Center, a clinic in Arlington that advocates for homeless people with severe mental illness, about half of all mentally ill individuals recycle through the criminal justice system, meaning that within three years they commit another crime.
"We try to change the laws to make sure people are getting help ahead of time," Frankie Berger, director of advocacy for the Treatment Advocacy Center, said.
In prison, most mentally ill individuals do not get help ahead of time.
"Only one in three state prisoners and one in six jail inmates who suffer from mental health problems report having received mental health treatment since admission," according to the Urban Institute.
"We must look at the scenario of developing acute care psychiatric units in prisons by shifting state funds to departments of corrections from departments of mental health, according to Daniel."
"A lot of mentally ill do not fare well in prison," Kim said.
Mental Health Courts
One solution to prevent the recycling of mentally ill prisoners has been mental health courts. Mental health courts use assessments to create long-term community treatment, instead of sending offenders to prison.
According to the Council of State Governments Justice Center, there are now over 300 mental health courts in the U.S., up from just four in 1997.
The increase in the number of mental health courts appears to be indicative of the success — exactly how much is hard to quantify — of these programs.
A 2012 Urban Institute study found that in 2005-2006, mental health court participants who were arrested in Brooklyn or the Bronx were less likely to recidivate than offenders who went through regular court.